Local Adventure Dhiffushi

Local Adventure Dhiffushi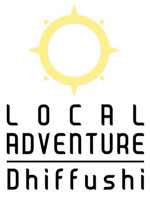 The Dhiffushi guesthouse is located in North Male' Atoll, on Dhiffushi island. It takes about 55 minutes by speedboat from Male' to Dhiffushi, and about 3 hours by ferry.
The local population of Dhiffushi is about 1200 people. The main activity for the people of Dhiffushi is fishing and related work although different other types of work is done including construction activities.
It is a compact, yet lovely island where everyone knows everyone and where the community spirit is strong. It is also a very green island with plenty of vegetation. Local people grow different types of fruits and vegetables which is an added bonus because in many Maldivian islands, the land is not large enough for agricultural activities. Of course, beautiful white sandy beaches surround the island with turquoise blue ocean to enjoy.
The guesthouse has 4 spacious and clean double bedrooms, fully furnished to suit the needs of our visitors. Each room has its own en-suite bathroom with hot and cold running water. The rooms are also equipped with ceiling fans and are air-conditioned to ensure maximum comfort for our guests in the warm climate of the Maldives.
All the meals are provided in the guest house where you can enjoy a range of delicious local dishes prepared the Maldivian way, by Maldivian women.
At Dhiffushi guest-house, we like to plan the next day's programme daily with our guests, so you can choose how you would like to spend your time and which activities you prefer to do as a group or separately.
Maldives Guesthouse
Ile de Dhiffushi
Prix en USD$ taxes inclus (include tax)
ACTIVITIES on DHIFFUSHI
Prix par
(Price for)
Nombre de personnes
(Number of people)

1 - 4 personnes
(people)
Personne supplémentaire (extra person)
Minimum
Maximum
Plongee palmes masque et tuba demi-journee
Snorkelling half day
$50
+ $10
1
16
"Blue Lagoon" Banc de sable demi-journee
Sand bank half day
$80
+ $10
1
16
Picnic banc de sable journee entiere
Picnic sand bank full day
$140
+ $10
1
16
Decouverte de notre lagon en bateau traditionnel a voile
Traditional sail boat trip
$50
+ $10
1
12
Excursion sur le lagon avec les dauphins (Pas garanti à 100%!)
Dolphin-spotting trip (Not 100% not guaranteed!)
$100
+ $10
1
16
Peche a la palangrotte de nuit
Sunset night fishing Maldivian style
$40
+ $15
1
16
Diner romantique bbq poissons sur un banc de sable
Romantic sand bank fish BBQ
$150
-
2
2
Diner romantique BBQ langoustes sur un banc de sable
Romantic sandbank lobster BBQ
$200
-
2
2
Diner romantique BBQ poissons sur notre ile
Romantic beach fish BBQ
$100
-
2
2
Diner romantique BBQ langoustes sur notre ile
Romantic beach lobster BBQ
$150
-
2
2
Performance percussions / chants / danses Maldiviennes
Bodu beru drumming show (30 min)
$50 total
-
1
20+
Decouverte d'une ile deserte
Desert island excursion
$50
+ $10
1
16
Journee sur un yacht repas compris (6 pax)
Yacht - full day trip (6 pax)
$450
-
1
6
Transfert à Resort Asdu pour la plongée
Transfer to Asdu island resort for diving
$50
+ diving
-
1
16
Visite d'une maison Maldivienne derniere du genre
Visit traditional Maldivian house
-
+ $10
1
6
Decouverte de l'artisannat traditionnel maldivien
Traditional handicraft
-
+ $10
1
6
Embarquez sur un bateau de peche au thon pour la journee
Tuna fishing day
-
+ $40
1
4
Visitez Dhiffushi avec details accompagne d'un guide
Visit Dhiffushi with guide
-
+ $10
1
10
Visitez la capitale Malé avec un guide
Trip to Malé with a guide (food not included)
-
+ $20
1
16
Nagez avec les mantas (meilleure saison Oct-Déc)
Manta point trip (best season Oct-Dec )
-
+ $75
1
16
Surfez les vagues de kaafu nord
Surf nothern kaafu waves (half day)
$40
+$20
per board
1
4
Snorkel trips from the island beach are free of charge, and suitable for beginners in the warm, shallow lagoons
Transfers on the public ferry service from Malé to Dhiffushi depart daily (except Fridays) at 2:30pm prompt from the "Villinghili Ferry Terminal" in Malé (not from the airport). Cost = MRF30 (USD$2) per person for the 3/3.5 hour trip.
Return transfers (from Dhiffushi to Malé) depart daily (except Fridays) at 6:30am prompt. Cost = MRF30 (USD$2).
Speedboat transfers from the airport cost USD$ 275 for the boat hire (so cost per person depends on the number of passengers). A 25% booking deposit is required in advance.