Trip to Male'
A trip to Male'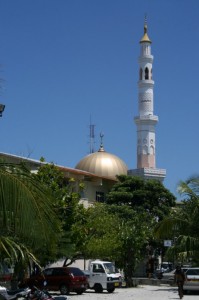 is recommended for those who would like to visit this unusual island, which is also the smallest capital city in the world.
There are several places of interest to visit in Male', including some historical sites, the national museum, the grand mosque and other places of local life, such as the bustling fish market and fruit and vegetable market.
Male' also offers several cafe's and restaurants where you can have a coffee or a meal, or just an ice-cream to cool down in the heat. There is an area of Male' where souvenir shops for tourists have existed for many years. Although a lot of souvenirs are imports, it may be possible to find a locally made product in the many souvenir shops in the north Chandhanee Magu area of Male'.
Aerial views of Male' are quite spectacular and will be a treat to see for those who have a window seat on the aeroplane, arriving or departing the Maldives, irrespective of day or night.
Traffic in Male' is chaotic and crazy as the island has a lot of vehicles on mostly narrow roads with very narrow pavements for pedestrians. While the island's one-way system generally works, traffic congestion and impatient motorbike drivers make the roads particularly scary and unpredictable for the new visitor. Honking horns are a common sound in Male', as impatient drivers wait in traffic trying to get from one place to another in the less than three square kilometers of the island!